Not surprisingly, new doors open, others close once you obtain your doctoral degree. Therefore, a doctoral degree is a prerequisite to moving up an academic career towards a professorship and for a leadership role in some economic sectors. However, in some sectors, you will be considered overqualified with your doctorate.
Depending on the subject area, there is an entire gamut of opportunities beckoning both in and outside of research and teaching, with an exciting job that suits you: a career in academia is not the only option available. On that account, it is importantthat you know yourself well, that you are familiar with prospective 'target sectors' and that you are aware of the view these sectors take of you and your doctorate. The publication "Perspektiven nach der Promotion" (Prospects after obtaining a doctoral degree) authored by the German University Association for Graduate Training (GUAT) will show you how to make sure all sides are satisfied. It is available at: https://www.uniwind.org/publikationen/publikationsreihe.
Last but not least: A doctoral degree is more than a title. It provides you with a set of competencies that will prevent your career prospects from being reduced to just plan A or plan B!
Postdocs are - broadly speaking - researchers who have obtained a doctoral degree and seek to get further qualifications with a view to gaining eligibility for a professorship. There is currently no common understanding in this regard, neither at international nor at national level, and this can also be put down to the different disciplinary cultures within the individual universities. Habilitation researchers are generally also considered to be postdocs, although their status as habilitation researchers is legally governed by a habilitation regulation.
Whichever definition is used, the postdoc phase is always associated with tasks und development objectives. On their career path towards a professorship, postdocs are expected become more scientifically independent over time, for example. The German University Association of Advanced Graduate Training (GUAT) divides the postdoc phase into three parts:
Early postdoc phase
The point of this orientation phase, which lasts roughly two years, is to reflect on which path to take and determine whether you are capable and willing to meet the requirements in the necessary qualification areas in your bid to attain eligibility for a professorship.
Profiling phase
Theoretically, lots of different opportunities are available to postdocs, both ahead of and after the profiling phase. Therefore, profiling can take the traditional route of habilitation. Theoretically, however, there are also other possibilities, including the management of early career researcher groups, junior or tenure-track professorships and other appointments funded by third parties, all of which serve to gain further qualifications. After the profiling phase, work inside and outside of academia and in the intermediary field (institutes, research companies, etc.) would be a possibility.
Appointment phase
If you meet the formal requirements, you can apply for a professorship or chair position.
In February 2020, the German Centre for Higher Education Research and Science Studies (DZHW) made the results of the Nacaps study involving doctoral students and doctorate holders available online on a data portal. Go to nacaps-datenportal.de for an analysis of Germany's hitherto largest survey of doctoral students and doctorate holders with over 20,000 respondents. This portal provides an overview of the conditions, career prospects and general life situation of doctoral students and doctoral holders.
The results are presented as indicators on the portal. They have been divided into seven topic areas:
Working and employment conditions
Supervision
Type and structure of doctorate
Motives for pursuing a doctorate and length of doctorate
Career path and perspectives after being awarded the doctoral degree
Mobility
Life situation and personal background
About Nacaps
Nacaps is a longitudinal study of doctoral students and doctoral holders conducted by the German Centre for Higher Education Research and Science Studies (DZHW) and funded by the Federal Ministry of Education and Research since 2017. Based on annual online surveys, the study examines the conditions, career objectives and career paths as well as general life conditions of doctoral students and doctoral holders. Nacaps is conducted in cooperation with over 50 universities authorised to award doctorates. The University of Passau has also taken part in the survey.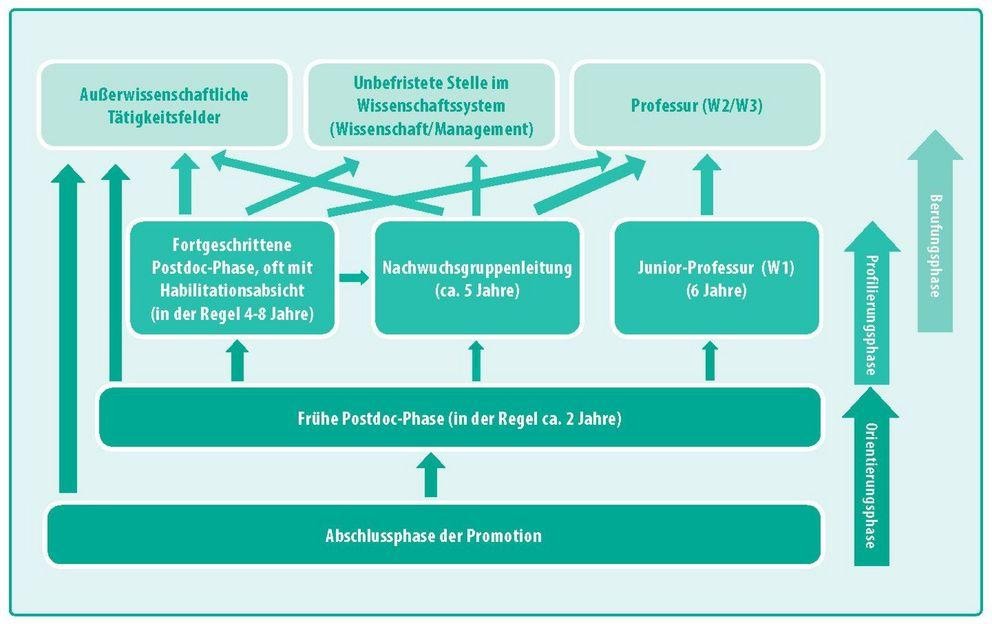 If you decided to qualify for a professorship early on in the postdoc phase, different routes will be open to you and these will vary depending on disciplinary culture and availability. These are (in simplified terms)
Postdoc position (to obtain qualifications considered equivalent to a habilitation)
Habilitation
Management of an early career researcher group
Junior professorship
Tenure-track professorship
The German academia is flexible in that you can also apply for other qualification appointments while you already hold a postdoc position. In such cases, the academic age requirement for the individual appointment is what counts. Especially the newly introduced tenure-track professorship is intended for early career researchers in the initial stage of their career. The specific regulations applicable may vary depending on funder, federal state and university.
The Graduate Centre and the Research Services Division are happy to provide advice, especially when it comes to further opportunities, strategic considerations, specific regulations, variations and the organisation of funding for appointments.
Habilitation is a postdoctoral qualification. It serves as formal proof that the habilitation candidate has the ability to teach (in German: Lehrbefähigung, Latin facultas docendi) and is a formal requirement for professorial appointments in many subjects. Every academic discipline has its own precise requirements as to what constitutes ability to teach and academic autonomy. Please talk to your mentors for more in-depth information.
For your habilitation it is imperative that you name the subject for which you wish to habilitate at the outset, as this may affect your application opportunities later on. All faculties of the University offer the opportunity to complete a habilitation. For details refer to the habilitation regulations (German) of the University of Passau Please address any questions you may have with respect to the habilitation regulations to the relevant Dean's Office.
Once you have completed your habilitation qualification, you may apply for your licence to teach, in German: Lehrbefugnis (Latin: venia legendi). The faculty thus bestows on you the right to teach independently. At the same time, this imposes on you a duty to teach the requisite number of teaching hours each semester to maintain your teaching licence (in German this is called Titellehre).
Depending on your academic discipline, there may be other paths towards a professorship.
To become eligible for a professorship, postdocs need to build a portfolio comprising the following areas (in alphabetical order):
Study visits abroad and international cooperation
Supervisorship (regular students, doctoral students)
Obtaining funding from third-party sources (building a track record)
Research
Leadership experience (from assistants to staff)
Committee work
Teaching
Network
Awards and distinctions
Publications
Lectures
Science management (by way of externally funded projects, for example)
The specific requirements - breadth and depth of your expertise or your scope of experience in teaching - vary greatly from one subject area to the next. Your mentors will be able to give you reliable information.
A number of pertinent publications have been published to guide postdocs in their considerations and support them in their planning:
Kauhaus, Hanna; Hochheim, Evelyn (ed.) (2017): Qualifizierung in der Postdoc-Phase. Available online.
Müller, Mirjam (2014): Promotion - Postdoc - Professur. Karriereplanung in der Wissenschaft. Frankfurt am Main, New York: Campus.
In addition to a university career, which is dedicated primarily to research and teaching, you may find universities of applied sciences, which are more practically oriented, interesting as well. This really depends on whether your subject area is taught at universities of applied sciences.
If you are aiming for a professorship at a university, a doctorate and several years of professional experience in the field outside university usually serve the purpose. However, in this case, too, you will need teaching credentials (usually not provided by a habilitation) to ensure eligibility for a professorship.
In light of the many different career paths in and outside of academia, the Graduate Centre wants to help you determine where you are in terms of your doctoral career and to support you when developing your career options. Should you, for instance decide to head elsewhere during your postdoc phase, you could work with us on various matters, including the following topics:
Clarification of motivation and value clarification
Biography and career analysis
Analysis of interests, strengths and competencies
Learn more about the specifics of our advisory services.
You can also contact our ombudspersons whenever conflicts arise in your relationship with your supervisor.
The Women's Office offers coaching to female early career researchers: To increase the proportion of women in doctoral programmes, postdoctoral research and habilitation, female early career researchers should be able to receive one-on-one coaching, especially in the time between receipt of the master's degree or sitting the state examination and receipt of the doctorate and also between receipt of the doctoral degree and the postdoctoral/habilitation phase. Postdoctoral researchers should also be able to get coaching to help them write a successful application for a professorship.
On the strength of the Diversity Mentoring ProgrammementUP*, the University of Passau wants to promote and integrate members of groups that are underrepresented in universities and leadership positions.
You might also find what you need
The application and appointment procedures for professorships are complex and at times drawn-out process during which lots of formal, legal and substantial factors need to be taken into account. These also vary, depending on the subject area.
On the one hand, your network, particularly your mentors, can give you advice and share their experience with you. In addition, the German Association of University Professors and Lectures (DHV)offers seminars and legal advice on all sorts of topics related to professorship appointments.
Please follow the instructions below if you are pursuing your habilitation in collaboration with a company or any other institution:
Before starting on your habilitation, make sure you check with the company or the external institution whether you will be able to comply with the provisions of the habilitation regulation for publication (publications prior to submission of the paper and publication of the completed habilitation thesis).
For this purpose, please contact your habilitation board before you start.
You should effectively establish how confidential and protected the data that you will be compiling/generating are and in what form the results may be published.
Having authored the thesis, you alone have the copyright and any resulting exploitation and usage rights. However: You can grant usage rights to others/institutions in a contract. Please make sure that you do not unwittingly assign your rights to others (by signing an agreement stipulating a embargo period for publications, for example).
Please note: This website provides information in summary form. Only the pertinent legal texts and the official versions of the relevant regulations published in the law gazette are legally binding. The content of this website is not intended to be exhaustive.